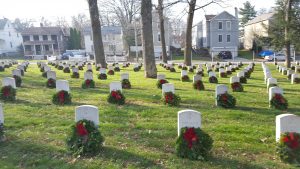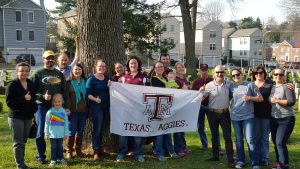 Saturday Dec 17th, Wreath laying at the Baltimore National Cemetery, 11:30AM, 5501 Frederick Ave, Catonsville, MD 21228
There is a scripted memorial ceremony that lasts about 30 minutes. After the scripted portion is completed, everyone moves to the section where the wreaths will be placed. Make sure you are dressed for the weather as we lay wreaths that day in the sun, snow, rain and freezing temps – just like the mail man! When we get to the placement portion of the event, there will be three staged photos for the event and I want to get one of us as a group.
Your support is needed as there are many gravesites at Baltimore National Cemetery; not only is it one of the oldest National cemeteries, it is also one of the largest with over 44,000 gravesites.  Unfortunately, they were only able to place the wreaths that had been purchased and that number has dwindled the last three years to where only 4000 of our veterans were remembered last year. For every 2 we sell we get 3. Please share this on your Facebook page so we can reach everyone. Please use this link to purchase so we get the third one.
Even if you are not attending, If you want to help us, please encourage your family, friends, co-workers to make a wreath purchase.  Click Here !