12th Annual Texas Independence Day on
March 5th, 2022, at Greene Turtle, Hanover, MD 21230.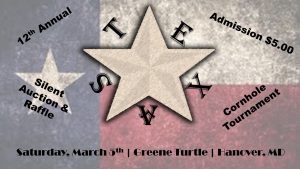 All Texans (and Texans at heart) are welcome, so feel free to invite your friends and family! This event is only $5 per person for entry.  You are encouraged to order food and drinks from Greene Turtle while you are here since they are providing the place for us to hold this event.  Check out their menu here.
We will be celebrating from 12:00 pm to 4:00 pm, with a Silent Auction, Raffle, and Cornhole Tournament.
The club uses this event as a fundraiser to build an Endowed Scholarship 501c(3), sending Maryland students to college.
The Cornhole tournament will have a cash payout to the winners along with some amazing trophies.
We will also raffle off Blue Bell Ice Cream and the bottles of wine and booze collected, each ticket is $1.
To see the Silent Auction Catalog click here. TID
This years silent auction is again full of great items. We are looking forward to seeing you all and creating new memories.
If you are unable to attend and wish to place a proxy bid on an item please email me at marylandamc@aggienetwork.com subject Proxy Bid.
---
Entry Ticket ($5 per person)
Cornhole Tournament entry fee
($10 per person)
Raffle Ticket pre purchase $1 each, 12 for $10 and 30 for $25
$1 for each
$10 for a dozen (12)
$25 for thirty (30)
---